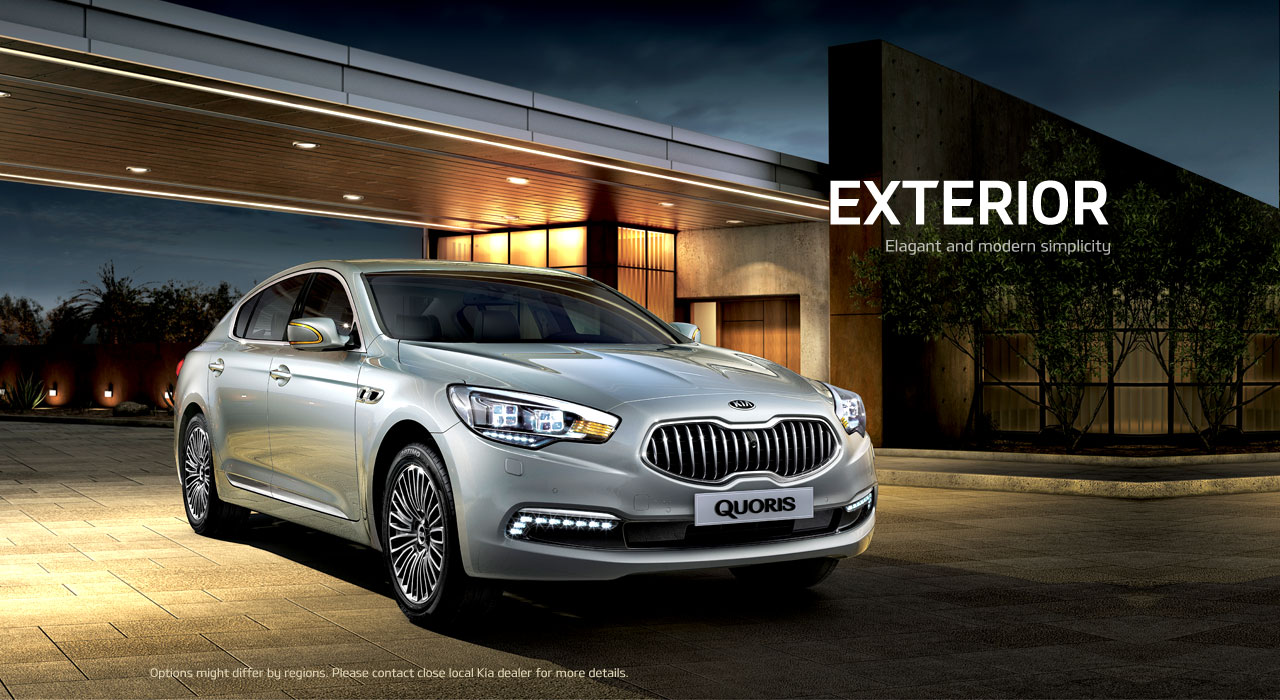 While boasting the largest dimensions in its segment, Quoris is the next step in Kia's dynamic and innovative design legacy with its charismatic front mask and sophisticated curves and surfaces.
For a premium sedan, beauty lies in the proportions. A long sweeping shoulder and extended rear overhang combine to give Quoris a robust stance and aura of power and dignity.
A sleek and aerodynamic side silhouette is accentuated by a simple yet confident side character line to give Quoris a feeling of spaciousness while emphasizing its performance-driven design.
Quoris is a game-changing luxury sedan that pushes the horizons of its segment. Passionate attention has been paid to the finer details including innovative, high-tech touches that enhance both Quoris' functionality and aesthetic allure.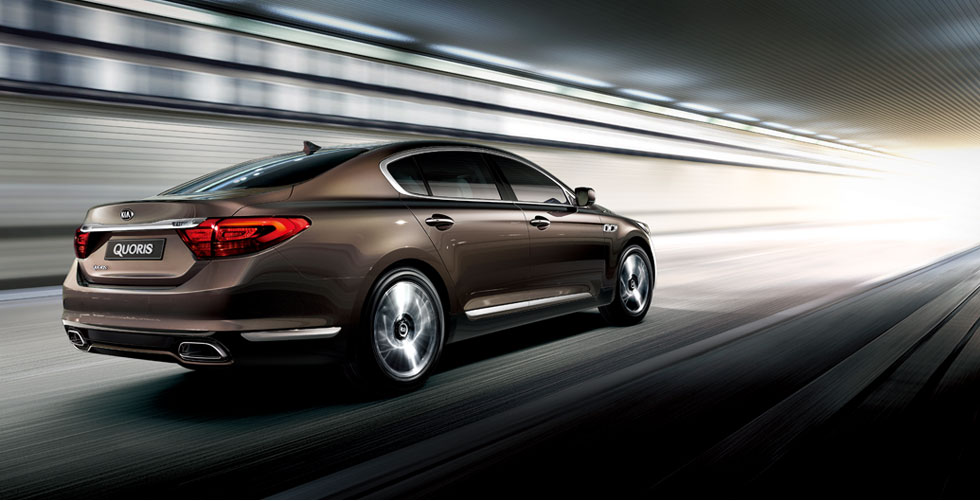 In addition to providing a dynamic driving experience never before seen in a Kia, Quoris employs high-strength steel throughout the chassis to ensure a higher level of protection against collisions.
The elongated horizontal shape of the high-mounted brake lamp not only blends seamlessly with Quoris' stylish rear design but also offers maximum visibility for trailing motorists.

Innovative puddle lamps under the side mirrors illuminate the ground for better visibility when approaching and exiting the vehicle at night while convenient pocket lights under the door handles aid vehicle access in the dark.

Featuring a thin film that reflects solar heat and blocks harmful UV rays, the solar glass used for Quoris' windows not only keeps you and your passengers cooler on hot summer days but also protects the cabin interior from damage caused by the sun.
The mark of a truly luxury sedan is maximum convenience with minimal effort. The actuator motor built into the door latch automatically finishes closing the door in the event that it is not fully shut.

Featuring electric-power closing and opening capability, the trunk lid will instantly reverse and open when an obstruction to proper closing of the trunk is detected.

Enjoy the fresh air and rejuvenating sunshine with this powered privacy glass sunroof. For added safety, it detects obstructions and automatically reverses direction to prevent injury.